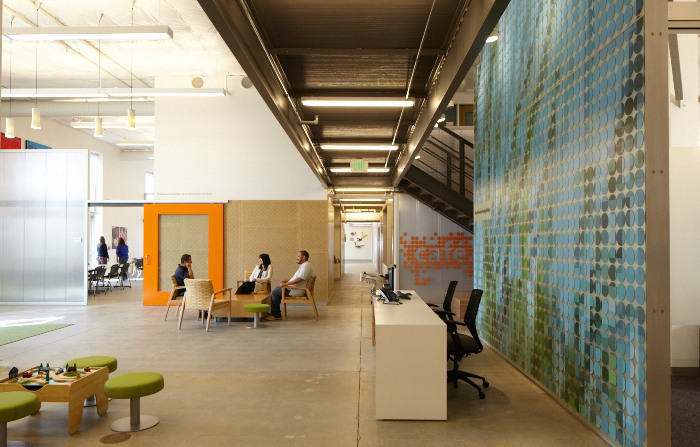 ---
Entry Title: " Children's Institute, Inc."
Company: Koning Eizenberg Architecture , United States
Category: Professional, Build
Designer(s): Architect/ Koning Eizenberg Architecture Consultants: Contractor/ Swinerton Structural/ John A. Martin & Associates, Inc. Mechanical and Plumbing/ KMA Consulting Electrical/ Alliance Engineering Group, Inc. and Unison Electric (design/build) Landscaping/ Nancy Goslee Power & Associates Civil/ KPFF Consulting Engineers Lighting/Horton Lees Brogden Lighting Design LEED/ AECOM Acoustics/ VSA N Associates Signage and Graphics/Newsom Design Waterproofing/ IRC Waterproofing Geotechnical/ Geotechnologies, Inc. Hardware/ Finish Hardware Technology Specifications/ Specifications West, LLC Owner Rep and Cost Estimating/ Square One, Inc.


Entry Description:
This adaptive reuse of three industrial buildings created the headquarters for Childrens Institute, Inc. a non-profit organization that assists children and families exposed to violence. The campus is split by an alley with the north site focusing on preschool and early childhood services and the south site anchored around a community center offering educational programs (art, technology, nutrition, and after-school) as well as counseling services. Therapy rooms are dispersed around community spaces to make visits an everyday, rather than clinical, experience. These innovative strategies deinstitutionalize the services traditional delivery and build trust in a neighborhood in need of both counseling and community programs. The project is slated for LEED silver achieved substantially through renovation of a brownfield site, increased daylighting and passive shading, introduction of planting and permeable surfaces, and efficient HVAC systems and lighting.

A key part of the design process was re-thinking program organization to reveal opportunities for creative and collaborative community engagement. On a tight budget ($10.5 million), the design provides required amenities that add a sense of identity and welcome and express sustainable ideals.

At the preschool a needed elevator was added and clad with bold sunflower graphics to create an inviting community marker. This design element was also an opportunity to employ sustainable technology in the form of an energy efficient, machine room-less elevator, which consumes approximately half the energy of conventional traction machines and about one third the energy of hydraulic machines. The preschool includes an edible garden that provides a teaching opportunity for inner-city children while also adding permeable surfaces to the site. New landscaping throughout the site is watered by efficient irrigation that reduces water use by 50%. Playground surfaces contain recycled content and paving throughout the site employs NaturalPave, a light colored hardscape product with no petroleum based products.

On the southern site, the community centers west-facing entry elevation is the only source of daylight for the building. Shade for the harsh exposure was achieved by reconfiguring an existing loading dock canopy into a vine-covered arbor that also defines an outdoor garden patio running the length of the building;a respite in a dense urban setting. Other architectural elements were also ;up-cycledas fencing and site screening. The buildings include preferential parking for energy efficient vehicles and onsite bicycle storage and showers to encourage bike commuting. Electrical usage is reduced by the inclusion of energy efficient lighting control systems, including lighting controlled by occupancy sensors, dimmers, and timers. A 30% reduction in interior water use was achieved with the use of low flow/ dual flush water closets, low flow urinals, and low flow motion censored faucets.

Inside, a ;curiosity box backdrops the lobby, wrapping the technology center with images. The graphics, featuring the neighborhood and origami instructions, provide conversation starters for staff introducing children to a new environment. The project employs environmentally friendly materials that are rapidly renewable, made with recycled content, and/or void of petroleum products like Forbo linoleum, Prodec recycled rubber playground surfaces, Trex decking, NaturalPave hardscape, wheatboard, and carpeting with recycled content, as well as low emitting adhesives, paints, carpet systems, and composite woods. 10% of all materials used have recycled content and 10% are regionally sourced and produced within 500 miles of project. Additionally, over 50% of wood based materials are FSC certified lumber.

More than 85% of existing exterior walls, floors, and roofs were reused and overall construction materials were minimized by maintaining exposed structural components and finish surfaces (exposed concrete floors and exposed steel and wood structure and finished ceiling surfaces). During construction more than 75% of waste was diverted from landfills and indoor air quality was maintained at LEED standard. The also buildings reduce Heat Island Effect through the use of white roof membranes and light colored, high reflectance pedestrian traffic coatings, and paving materials, and shading by newly planted trees. In addition to new trees on the site, the project planted the maximum amount of street trees on surrounding streets allowed by Los Angeles City Urban Forestry Officials.

About the Company:
Koning Eizenberg Architecture is known for its imaginative, site specific and people-oriented approach to
the design of places of everyday living. Established in1981 by Hank Koning FAIA, FRAIA, LEED AP, and Julie
Eizenberg, AIA, with Brian Lane, AIA, LEED AP assuming a managing principal role in 2003, and Nathan Bishop
LEED AP in 2011, the firm combines a discipline of tight budgets and a hands-on pragmatism with a commitment
to sustainability and the value of informal social spaces. The firms fresh, contemporary aesthetic
brings design excellence to a wide range of building types, from housing to community centers, schools to
hotels, recreational facilities to retail, and work places to museums. The breadth of this experience translates
into an ability to generate creative solutions for unique situations with budgets that conventionally
sustain only generic solutions.

The firm is often selected to work on projects that require creative thinking to tackle complex issues of
programming, site use, and contextual fit. Its groundbreaking work in housing and community-based
projects has achieved international recognition. To its credit, the firm counts more than 70 design awards
and several successful national design competitions. An influential approach to design has earned Koning
Eizenberg recognition and the principals are often called upon to lecture, teach, and participate on panels
and in forums worldwide.

As long-term advocates of sustainability we continue to deliver groundbreaking LEED accredited projects
like the Childrens Museum of Pittsburgh (largest LEED Silver Museum in the US upon completion), Virginia
Avenue Park (the first LEED Silver park to be completed in the US), and the award winning Century Building
and Bike Center (expected LEED Gold in Pittsburgh). The Childrens Institute Westlake Campus in Los Angeles
is projected to obtain LEED Silver certification in early 2011. We have six LEED certified architects on
staff and while not all of our projects pursue LEED certification, we design with sustainability in mind.
Remarkably diverse in appeal, Koning Eizenberg projects have been widely published in professional
journals, books and general interest periodicals, both in the United States and abroad, including two monographs,
Koning Eizenberg Buildings (Rizzoli, 1996) and Architecture isnt just for special occasions (Monacelli 2006) which provide a more in-depth look into the philosophy of the firm.
Awards:
* 2011 Green Awards - 2nd Place Winner - Build Category